Fluted Banister #1- on the foot!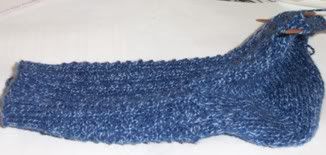 I blogged about this sock over
here too.
I'm very happy with sock #1! I squeezed my foot into it (not easy with those tiny #1s!), and it fit fine and was very comfy. This is my fourth pair of socks, but my first on #1s. Boy, does the smaller size needle really slow things down for me. I kept feeling like I was going to break them doing the decreases!
I'm enjoying seeing all the creative sock knitting going on with everyone on this KA! I've added several new patterns to my "gotta knit 'em" list! Go sock knitters, go!