socksess hasn't spoiled me yet
or at least, i don't think so. i finally finished my daughter's birthday socks: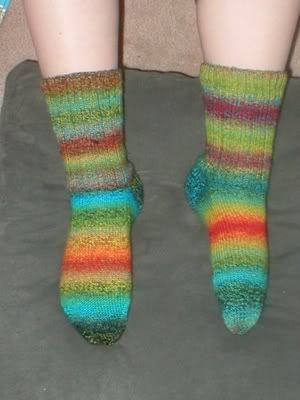 and it was before her birthday, too! i'd lost the pattern, bought it again, and then found the one i'd lost.
did you ever have days like that?
anyway, i used the
yankee knitter classic sock
pattern, doing a women's size and the 3x1 ribbing on the cuff. the yarn i chose to use was
trekking xxl
in colorway 100. needles? brittany size 2 dpns (one of which snapped during the making of this show).
next up: the hugs and kisses socks. i got some yummy lime (are limes yummy?) plymouth italy baby sock yarn last week from elann, and i'm thinking i might use my leftover trekking for the details.
i love seeing everyone's socks (in a knitterly way, not spoken with a fetish accent). this is great fun!