A Matching Pair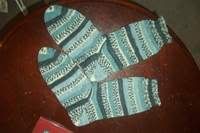 Well, almost. They're about twelve stitches off.
Here's my second pair for this knitalong. I promised myself I wouldn't start another until I finished my sock pal's. Well, as you can see, I couldn't help myself. The yarn is from
Elann's Harlequin collection
. These were knit using a 8-figure cast-on,
no wrap short heel
and a grafted bind off. I'm very happy with the results of this pair. It was alot of fun to watch the pattern develop.