Plain Jane Opals...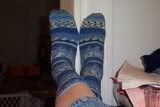 Finished my Plain Jane Opal socks today- whoop! I LOVE how they turned out! Yea, I get a star by my name now! :)

Pattern: Yankee Knitter Designs #29 (Classic Socks for the Family)
Yarn: Opal Magic in blue
(1036)
Needles:
Crystal Palace #2 dpns
Now I really should get back to the pair I started this KAL with: Fluted Banisters...sock #1 is still languishing around here somewhere (think I'm on the foot portion). If you read
my blog
you'll know what I'm
really
going to do next though. Blame it on that Woolly Warbler...