Pretty Petals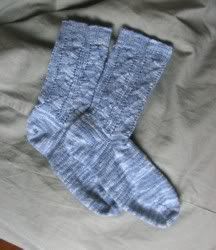 I finished these up the other day and boy, did they need a blocking! I made these for my mom for Mother's Day. I hope she likes them, because if she doesn't I'll take 'em back!
I just wanted to say that I'm really enjoying looking at everyone else's socks. Ya'll have given me some great ideas! Keep 'em comin'!
Oh, almost forgot, this pattern comes from
The Townsend Sock Knit Along
.